Welcome to Esker Celtic FC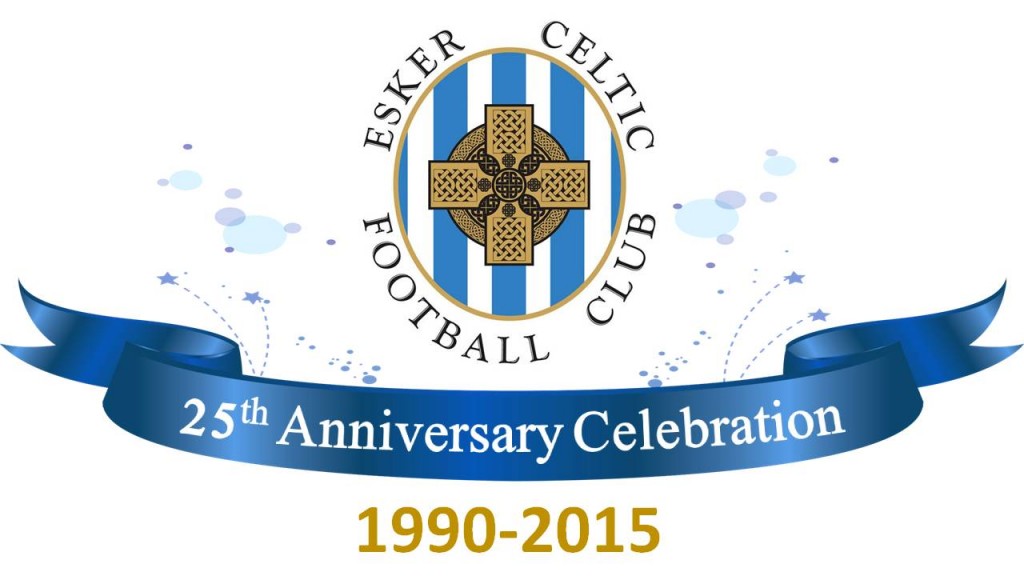 A message from the Chairman
A big thank you to all for the huge effort and successful event that was our 25th Celebration on Saturday Night. I am really encouraged by the amount of people in our club that take so much on and nothing seems to be a problem.  I am refusing to name anyone for fear of leaving someone out which would never be my intention. There was a tremendous amount of work to pull all of this  together and it seemed to be ongoing for weeks.  Really  enjoyed the night, I thought the venue was excellent, layout, meal and all that goes with that. On such a wonderful occasion and with over  220 people attending it was a pity that so many current and just a few of the past members could not attend. I spoke to all of the past members on the night and they are so proud that the club has moved on so  far and really appreciated the opportunity to comeback and celebrate despite the cost of the tickets.
A special word of thanks to Kevin Doyle and the way it was  orchestra it was a fantastic night of entertainment and nothing but praise and compliments from everyone on the floor. Well done and thank you for doing this on this wonderful occasion. Danny Kavanagh I believe was fantastic unfortunately I saw little of the performance but the compliments were flying it was brilliant I was duly informed. A big thanks to Paul Murray for offering his DJ'ing talents on the night at no cost. Colm Young and Kevin Laverty well done on increasing the Orchestra by 2 again  really enjoyed the performance.
On  personal note thank you for the lovely presentation , I am not sure what it is for as our club like many others, is more than one man or woman. We work together, we laugh together and on occasion we disagree with each other but we all have the one goal in mind. The club is about people not one person.
Thank you all again for making this night so memorable and I really appreciate the amount of work done by one and all of you.
(The more we get, the more the page will be uploaded. Send all pics & videos to eskercelticfc@gmail.com)
..
2015 will see huge celebrations for the Clubs 25th Anniversary!
Scores will be uploaded on each fixtures posts on the left
. d
Esker Celtic have created a Facebook page with plenty of info and photos! Click here to go to the page!
You will find all you need in the menu at the top or on the left hand side
You can contact us via the contact us bar on the left or you can email us on eskercelticfc@gmail.com with your comments, suggestions or queries!

Recent Updates:
20/4/15: Mega raffle prize winners listed! Click here to see if you were a lucky one!
20/4/15: Pictures from the 25th Anniversary Dinner uploaded! Click here to see them!
5/4/15: The Tony Curran Memorial Tournament was held on Good Friday in Hermitage Park! Click here to read more!
29/3/15: New managers training survey announced!  Click here for link
15/2/15: Last Man Standing new forms. Click here to download new forms
6/2/15: Monster raffle details announced! Click here for more info!
17/1/15: New Player of the Month & Year Award announced! Click here for info!
17/1/15: 25th Anniversary information & events announced! Click here for info!
26/11/14: Coaching Corner updated!
24/11/14: 11-a-side Managers meeting minutes published. Click here for more info!
16/11/14: SSG Managers meeting with new DOC findings are published. Click here for more info!
10/11/14: Esker Celtic FC launch their new Facebook page! Click here for direct link!
20/10/14: Football For All page has been updated! Click here for more info!
20/10/14: Girls Page has been updated! Click here for more info!
13/10/14: Esker Celtic U10s played host to Ballymahon AFC on Sat 11th Oct! Click here to find out more!
4/10/14: Angela Cunningham has stepped down from her role as 11-a-side Secretary. Vanessa O Donnell will take over and can be contacted on 085 8888042 for all 11-a-side queries.
4/10/14: New 2014-15 Committee details are published. Click here to view details
16/9/14: Chairman's message regarding Child Welfare Courses. Click here for more info!
10/9/14: Winter training details have been uploaded. Click here for more info!
21/8/14: AGM date set for Sept 29th in the Clubhouse. Amendments to be made to our Constitution. Click here to see suggested amendments
20/8/14: All teams & managers contact details updated for the 2014-15 Season. Click here for more info!