Our club was established in Lucan in 1990 to meet the needs for young children in a small and close knit community.  Our club was formed with one team in the small-sided league and one football pitch located in Willsbrook Park.

As developers moved into Lucan and the population began to increase there was a requirement to increase the number of teams in the club and to seek additional facilities from South Dublin County Council.  After considerable effort by the committee, the club was allocated Hermitage Park as our nominated home ground.  Our facilities in Hermitage Park included four small sided pitches and one full size pitches. We also have three full sized pitches two in Griffeen Valley Park and one in St. Catherines Park not too far away from Hermitage.
Mission Statement
"To ensure all children in our club, from Lucan and the surrounding districts, are introduced to the sport in a positive, fun, yet controlled manner. We will endeavor to teach them new skills, increase their confidence, achieve their own unique potential, whilst interacting with other children in a positive sporting environment."
Our guiding Principles and code of conduct and Ethics can be viewed
here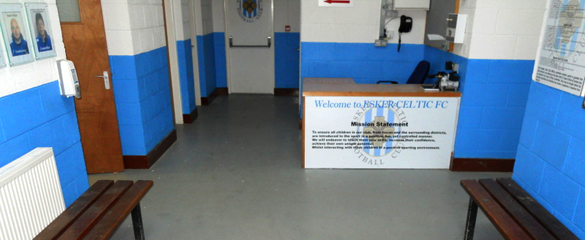 Our Facilities
The facilities for our home team and visiting teams firstly consisted of three container type units.  One was used as a storeroom for all non-valuable equipment and the remaining two were used as changing facilities. In 2004 our club secured the first round of national lottery funding which paved the way to the construction of a purpose built facility in Hermitage.Park. Our clubhouse is very modern and now has four large dressing rooms with showering facilities, a referees room, a large meeting room and a large cafe showing all matches on Sky Sports every weekend. The Clubhouse is open every weekend from 10am to 2.30pm (weather permitting).

11, 7 and 9-a-side pitches

Large carpark

Shower Facilities

Four large dressing rooms
Toilets

Café

Club Kit Shop

Meeting Rooms
The Esker Academy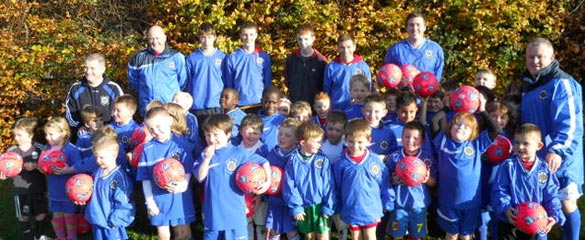 Our school of excellence, The Esker Academy, is our introductory class for the young children wishing to play football.  This facility was introduced some years ago to offer the opportunity for the very young to attend coaching at weekends. It is managed and coordinated by Garrett O Donnell. A large group of coaches come from local Transition Year students looking to become involved in coaching. The committee in Esker secure FAI Coaching training for these volunteers each year. There is close to 100 young players playing in The Academy each year. To date many children have passed through this school.  On completion of the course the children in the correct age group are brought together to form a team.  At least four teams are formed in this way annually. Young players can start in the Academy from the age of four and when they reach seven, then they will be graded and placed on a squad ready to play at Under 8's.
These new teams become the youngest teams in the small-sided game.  The teams are entered into a league and play in competitive matches weekly.  Currently we try to enter four teams from the Academy annually.
On completion of the small-sided game the teams progress to the full size pitch at the Under 13's level where teams amalgamate to ensure each side has sufficient players.
Esker currently have 38 teams, playing in the DDSL, SDFL, MGL & LSL .
Football for All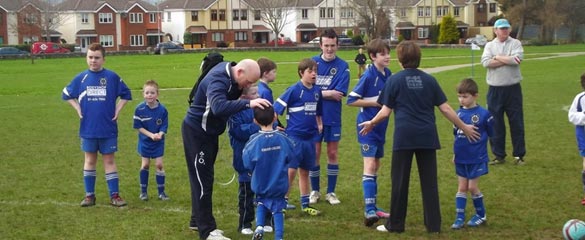 In 2012 Esker Celtic started a Football For All team aimed at young people with special needs and disabilities. With specific FAI coaching, Esker currently have 12 coaches with a disability awareness qualification. The Football For All squad train every Saturday from 1.30-2.30pm alongside our Esker Academy. Players range from aged 6 to 14 years and all have different disabilities and playing levels. We currently have 18 players who show up on a regular basis. New players are always welcome and can make contact through the Football For All tab at the top of the page.
A committee which is elected at the Annual General Meeting, manages our club.  The committee members change from year to year.  Our constitution identifies the key positions and the maximum time in office before elections. We currently have a very pro-active committee who have changed the way a small club was run to become one of the biggest and up and coming Clubs in West Dublin. You can see our current committee by clicking on the Committee tab at the top of the page.
Our club is guided by our rules and the rules of our guiding body (Football Association of Ireland).   When deemed appropriate we implement change and adopt new thinking for the benefit of all in the club. Our club is managed on a voluntary basis and is working extremely hard to provide a safe and modern facility for our members and all the local projects and schools that avail of our facilities.